Let me tell you the beauty trend among the Real Housewives of Atlanta.  Flawless makeup? No. Weave? Kind of, but no. It's a frosty brow highlight. There is nothing wrong with it,this is simply an observation. Nene's artist has perfected it. There is a significant amount under her brow, but it's blended like no other.  It makes you want to actually wear a frosty highlight. At Kandi's concert, Cynthia Bailey's brow highlight was a slight wash of frost. Lovely. Kandi had an exaggerated (super frosty, super beige [ick]) highlight, but it was stage makeup, so she gets a pass.
I don't even have the time to tell you what Phaedra's makeup does to me.  Now I will say this.  If she paid for someone to do her makeup, she would do more good burning her money in her own car.  If she does it herself, she is going for the obvious RHOA style, and she's on the right path.  If she wasn't on tv, I would appluad her efforts.  But since she is on tv, I just want her to find someone to do her makeup. Or better yet, someone to show her how to do her own makeup. I don't mean to stray from the highlight, but the lid colors are either too bright and not properly blended, or the crease is too much. And the white liner on the inner rim is just overkill.  Her makeup just looks too dusty for tv.
She looks so much better in this image! Come on Phaedra, keep up the good work!! Yes, makeup is my thing.  I'm not going to sit here and say that I could do that much more of an outstanding job doing my makeup. The difference between her and I as she has the funds (or she acts like she does) to pay to look amazing.   If she has all this money, fly Sam Fine or Tia Dantzler down for a day. As for a cheaper alternative, I know there is some out of this world artist in Atlanta that is on the verge of moving to NYC or LA to do celebs or something. Atlanta's a big city, I know there is somebody. Or, take the Sheree route and stay classic all the time with foundation, lashes, liner and a good lip. Either way, she has options that she is not taking advantage of.
This isn't a gossip blog, so I'm not going to bash her personality (although I really want to).
Sigh.

Eyebrows 101
See why having great brows is the best beauty-enhancing tip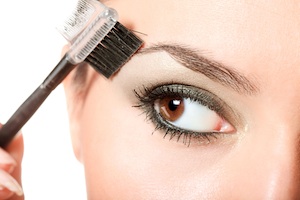 This is a TotalBeauty.com makeup tips article
If you've ever seen before and after brow photos, you know what a difference well-defined ones make. Here are some tips to help you get your best brows yet.
Images courtesy of entertainmentrundown, kiss1041fm and inthebasement.