And now, the final installment of MAC lipstick finishes!  These are some of my favorite lipsticks.  Each of these categories include colors that are packed with color, with I love.  I've included some lipsticks that you can buy at your local counter, some that are limited edition, and some that have discontinued for over 5 years.  The point isn't to sell you anything (which it never is), but to further explain.
Frost
O (left), New York Apple (right)
O (top), New York Apple (bottom)
What MAC Says: Excellent colour payoff with medium to high frosted shimmer-and-shine finish
What ErinScandalous Says: Metallic and shiny.
"O" is one of those shades that many Black women always go back to.  It's a dark burnt bronze.  I've seen dozens of people wear it with Ornamental lusterglass.  I almost never wear Frost lipsticks without gloss.  They have suck a metallic look that I'm not always crazy about, but I love the shades themselves.  Popular colors include Fetish, Icon, Fabby, and Chintz, to name a few.
Amplified Creme/Amplified
Show Orchid (left), Up The Amp (right)
Up The Amp (left), Show Orchid (right)
What MAC Says: Ultra-creamy. Quietly shiny. Colour-packed! Hi-res: hi-impact.
What ErinScandalous Says: Extra creamy and full of coverage.
Amplified lipsticks are my favorites, hands down!! They are jam packed with color.  You only need a swipe or two and your look is complete!  Violetta might be my favorite lipstick ever!
Cremesheen
Brave Red (left), Speak Louder (right)
Speak Louder (top), Brave Red (bottom)
What MAC Says: Ultra sheer and uber moist, it features flat pigments and a creamy high shine finish to lips.
What ErinScandalous Says: Extra creamy.  Mixture of Lustre and Amplified.
These are Amplified's little sisters.  They are a bit more creamy and full of color too.  They probably have more shine than the Amplified.

Your Go-To Five-Minute Makeup Routine
How to look fabulous even when you're pressed for time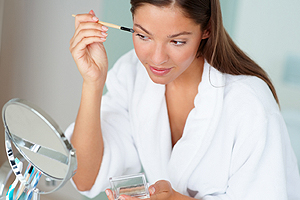 Just because you only have five minutes to get ready in the morning doesn't mean you should run out the door looking like it. (Unless you're going for the bedhead, just-woke-up look. In that case, heave ho!) This step-by-step tutorial will show you how to get a gorgeous makeup look in under five minutes.