Music is a vital part of my day at all times. I have to have it. I keep it on my phone, my Itouch, my laptops. Everything. I'm sure I'm not the only one that needs to pushed to make things happen. They each highlight something amazing to me. Let's get it!
1. So Ambitious by Jay-Z (The chorus says it all!)
2. Beach Chair by Jay-Z (Quote: My last will and testiment I leave my heir, my share of Roc-A-Fella Records and a shiny new beach chair) I go nuts everytime I hear that line!
3. Shine by Estelle (Quote: I'ma shine while my light's still on!)
4. Diva by Beyonce (Yeah, I'm pretty sick of it now. But when it came out, WOW.)
5. Encourage Yourself-Donald Lawrence (Words can't even express how this song moves my heart.)
6. God in Me-Mary Mary ft. Kiki Sheard (Quote:You don't know how much I've prayed, you don't know how much I've gained, You don't know how much I've changed)
7. No Hook by Jay-Z (Quote: Hustle c**n, hustle clothes or hustle music, but hard in ANY hustle you pick!) YES!
8. Late by Kanye West (Quote: Will I make it from the student loans to a Benz-O? Like old folks pi*sin' I guess it all depands, oh!)
9. 5 Dolla Mic by Dwele (Basically, he makes a hot interlude using a cheap mic, and that's what the song is about. Moral: Make it happen with what you can get!)
10. I Did it My Way by Jay-Z (Seriously, you just need to hear it.)
Yes, the list is mostly Jay-Z (and his wife and protege). So, it's only fitting that I tell Jay-Z Happy Birthday!!!! I've been a fan since I heard him on "Can I Get A" back in Middle School!
It's true! You can get gorgeous liner for way cheap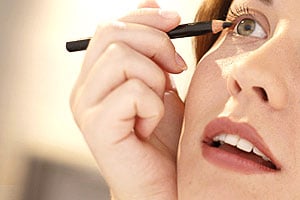 Before you shell out a bunch of cash on makeup for those holiday parties, check out this roundup of the best eyeliners under $10. There are tons of shades and types, from pencils to liquids, so there's no reason you can't get the look you want for cheap.